How to Setup a Metamask Wallet
Metamask is a free to use browser extension which is used to send and receive coins in decentralized application. It is a decentralized wallet which is used for ethereum and Ethereum based token. We can buy sell and swap the token using metamask wallet.
Metamask is widely accepted and a leading crypto wallet in the world having millions of active users globally across all the devices and browsers. As we know it is used to connect with the decentralized application so if you wan any kind of decentralized exchange then you can use Metamask wallet, and it is totally free.
In this article, we will learn how to install and setup Metamask wallet in different browsers of desktop. So, without getting deep into the theory, let's see the steps to install and setup Metamask.
How to Install and Set Up Metamask
Follow the below instructions to install and setup the Metamask wallet and start exploring the power of Blockchain!
Download Metamask
Install Metamask extension on your browser
Create your wallet and set password
Write down and store your Secret Backup Phrase
Confirm your Secret Backup Phrase
1. Download MetaMask
We need to visit the official website of Metamask and click the download button from top menu.
2. Install Metamask extension on your browser
After clicking on download button, now we need to install the metamask and for this, we need to click on 'Install MetaMask for Firefox'. We need to follow the same steps for other browsers.
Upon clicking on it, you will go to the web store to download the browser extension.
Now you need to click 'Add to Firefox' and then click on 'Add extension' to add the extension into your browser.
Upon successful installation, a MetaMask welcome page will be visible.
Also the extension will be available on right top corner of the browser. If you click on that, it will directly land you to MetaMask extension page.
3. Create your wallet
Now you need to click on 'Get Started' to create and setup your wallet. Upon clicking on it, you will get the below screen to create a wallet or export if you have already one.
Now click on 'Create a wallet' and it will redirect you to 'I agree' page where click on 'I agree'. Once you click on it, a page will open to create your password. You can set a secure password of minimum 8 digit.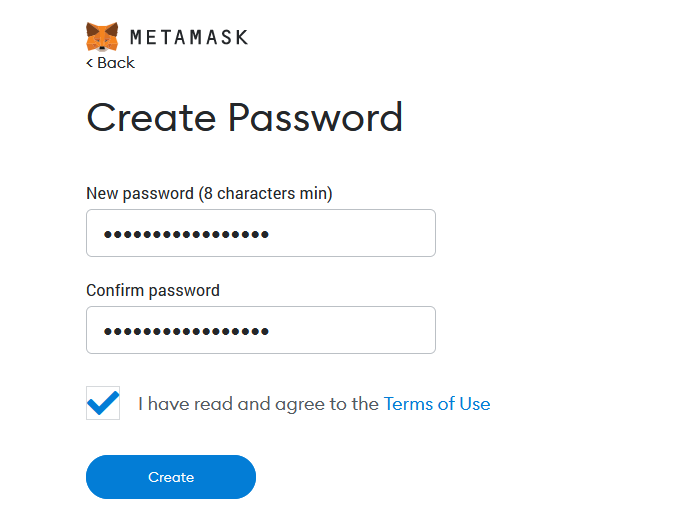 4. Write down and store your Secret Backup Phrase
Once the password is set, now its time to secure the wallet by adding secret recovery phrase.
This is one of the important steps of your metamask wallet creation. So, you need to store this secret phrase very privately in order to safe your wallet.
If you forget or misplace your secret phrase, then you will lose the access of your wallet.
Now click to revel secret words. This will be the 12 words secret phrase.
After reveling, you need to copy this phrase in your computer or any safe place. You can copy it on multiple places for safe retrieval.
After that you need to confirm each word of this phrase in next screen.  You need to select each word of the phrase in the same order while confirming.
5. Confirm your Secret Backup Phrase
Now once you confirm each word of the phrase, your Metamask account is created, and you will see a Congratulations page with few safety tips to keep or store your secret recovery phrase.
Now you have installed and setup your metamask successfully so now you can find your Ethereum address and interact with Ethereum application.
If you find any difficulties or have any question related to MetaMask account setup, feel free to ask in comment section. Our expert web3 developers will happy assist you.